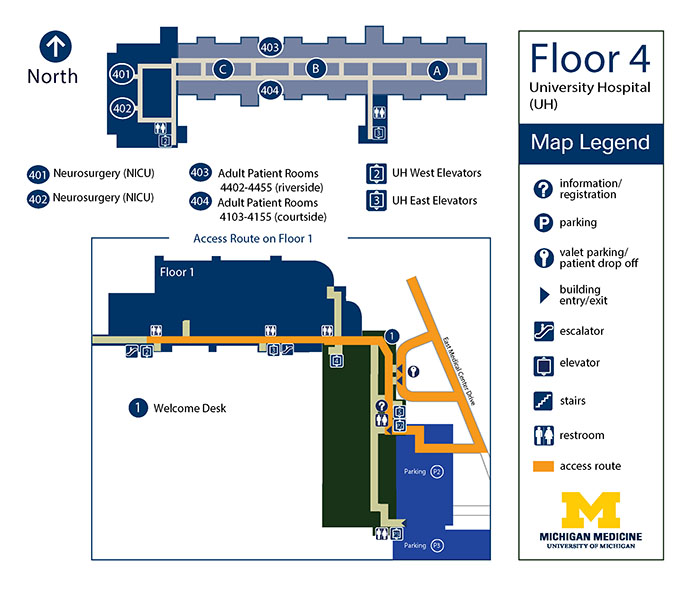 Directions to University of Michigan Hospital Floor 4:
Parking for the University Hospital is in Parking Structure P2. Remember the level on which you parked. Bring your parking coupon with you to your appointment to be validated at the clerical stations for a reduced rate.
Locate the parking structure elevator. Take the P2 elevator to the 1st floor. Turn right after exiting the elevator and enter the Taubman Center. The Information/Registration Desk is on the left, where you will receive your "blue hospital card" or you may update your registration information.
Continue past the Welcome Center on your right. Go past the lobby, through the first set of double doors, and past the red column. The east and west elevators and escalators are located on your left at each end of the hallway.
*Detailed directions to services located on Floor 4 of the University Hospital are listed below. Look for signage to assist you in finding your location.
Neurosurgery Intensive Care (NICU)
Continue down the hallway until you reach the West Elevators. Take the elevator to Floor 4. When you exit the elevator lobby, take the first hallway to your left. Turn right at the end of the hallway. You will see the overhead sign of the Neurosurgery (NICU) which is on your left.
Patient Rooms
Take the East Elevator to Floor 4. When you exit the elevator lobby, follow the hallway straight ahead until you reach the patient halls. Signage will indicate room number location. There are no restrictions on visitation in Mott Hospital for parents and immediate family members of pediatric patients. For other visitors and children, visiting hours are 9 a.m. to 9 p.m.