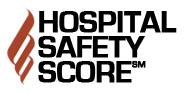 ANN ARBOR, Mich. - Patients now have one more reason to be confident when choosing the University of Michigan Health System for their care: UMHS has earned an "A" on the first national report card for hospital safety, awarded by the respected Leapfrog Group patient safety organization.
UMHS – which includes University Hospital, C.S. Mott Children's Hospital, Von Voigtlander Women's Hospital and many specialty centers and outpatient locations – earned the top grade in Leapfrog's first-ever Hospital Safety Score assessment.
The score is based on 26 publicly available measures of how well hospitals protect patients from harm. These include everything from hand washing and computerized systems for medications to nurse staffing levels and prevention of hospital-acquired infections and bedsores.
Of 2,652 general hospitals issued a score, UMHS is one of 729 in the nation and 32 in Michigan to earn an "A". The grades are available at www.hospitalsafetyscore.org and the UMHS profile is at http://www.hospitalsafetyscore.org/hospital-details?location_id=a951d190.
UMHS is one of only four hospitals in Michigan to receive the top grade and to be featured in Leapfrog's annual Top Hospitals list. It is also one of only four hospitals in the country to receive an A, make the Leapfrog Top Hospitals list, and be featured on the U.S. News & World Report Honor Roll of top hospitals, another key indicator of quality.
The Leapfrog Group is an independent national nonprofit run by employers and other large purchasers of health benefits. It pulled together a "blue ribbon" panel of experts – including John Birkmeyer, M.D., a U-M surgeon and patient safety researcher – to advise on which measures to include in the score.
Birkmeyer, who is the Zuidema Professor in the U-M Department of Surgery and director of the U-M Center for Healthcare Outcomes and Policy, did not have knowledge of U-M's performance on those measures when participating in the panel.
The new letter grade is designed to help simplify the world of patient safety and health care quality for patients. However, says UMHS Chief Medical Officer Darrell Campbell, Jr., M.D., patients should use all available information in making decisions about where to seek care.
Many health systems, including UMHS, have begun to post data on their websites about their performance.
At www.uofmhealth.org/quality , patients and their loved ones can find a wealth of charts showing how UMHS does at treating or preventing a number of conditions, and what patients think of the care they receive at U-M. Many of the charts show how UMHS stacks up against national peers or averages.
Similarly, the Leapfrog Group's website, www.leapfroggroup.org , and the federal government's Hospital Compare website, www.hospitalcompare.hhs.gov, post safety and quality information about a broad range of hospitals.
"It's a new day for patients and families who want to choose the best place for their care based on hard numbers and performance. While we're grateful that our efforts have earned this grade, we'll continue to push ourselves to do even better," says Campbell, who is the Ransom Professor of Surgery and director of the Michigan Surgical Quality Collaborative.
Both he and Birkmeyer are members of U-M's Institute for Healthcare Policy and Innovation, which brings together hundreds of U-M researchers who study and test ways to improve patient care.
# # #