ANN ARBOR, Mich. – Adults across the U.S. rate childhood cancer as their top priority for research into improving children's health, according to a new University of Michigan C.S. Mott Children's Hospital National Poll on Children's Health.
September is National Childhood Cancer Awareness month, and in this latest poll, 76 percent of adults rated research into childhood cancers as "very important." That was followed by diabetes, with 70 percent rating it "very important" and birth defects or other genetic problems with 68 percent.
"So many people know a child or family touched by childhood cancer," says Matthew M. Davis, M.D., M.A.P.P., director of the C.S. Mott Children's Hospital National Poll on Children's Health. "It remains a leading killer of children under 18 in the United States. The public clearly ranks research into cures and treatments for these often deadly cancers as a top priority."
Over the last several decades, research has made strong advances toward improving cure rates for children's cancers. Overall cure rates have increased from less than 40 to nearly 70 percent. But each year, more than 13,000 parents learn their child has cancer, and one of out of five children diagnosed does not survive.
"The results of this poll seem to indicate our research community is in tune with what the public sees as a top priority. But in a national research funding climate that is under pressure, this measurement of the public's priorities can help government agencies and others set strategies for the best use of research funding," says Davis, who also is professor of pediatrics and internal medicine at the U-M Medical School and professor of public policy at the Gerald R. Ford School of Public Policy.
The remaining top 10 rankings, following the top three categories of childhood cancers, diabetes and birth defects/other genetic problems were:
4. Causes of infant deaths
5. Transplants for cancers and other diseases
6. Safety of medications
7. Heart problems
8. Safety of vaccines
9. Improving quality of health care
10. Obesity
(See graphic for remaining rankings)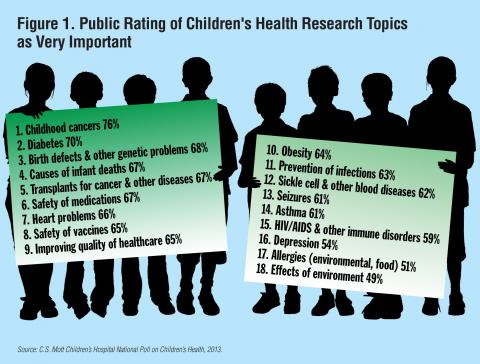 Poll data also showed that those parents with at least one child in the house under 18 years old rated childhood cancers first, but they ranked safety of vaccines and safety of medications higher than the overall group.
Results also varied for adults from different racial/ethnic backgrounds. African-Americans rated diabetes the highest child health research priority, with 87 percent rating it "very important." They also rated sickle cell and blood diseases higher than the overall group. Hispanics rated childhood cancer first, but causes of infant death came in second, ahead of diabetes.
"This poll provides guidance for the research road ahead and the path to healthier lives for children and adults," Davis says. "This information can be an important tool in determin research strategies, because the investments made today in the lab will make the difference in the lives of children tomorrow."
C.S. Mott Children's Hospital is home to the largest, cutting-edge pediatric research effort in the state of Michigan.  Mott has established the Center for Childhood Cancer to help find different, better ways to cure childhood cancers.
This month, the hospital is championing an awareness campaign dubbed "Block Out Cancer," encouraging everyone to share stories and spread the word about the need for funding for pediatric cancer research.
More information is available at www.mottchildren.org/blockoutcancer
Broadcast-quality video is available on request. See the video here:
http://www.youtube.com/watch?v=hgZQ0bZy61E&feature=youtu.be
Full report: C.S. Mott Children's Hospital National Poll on Children's Health
http://mottnpch.org/reports-surveys/top-public-priorities-children%E2%80%99s-health-research-cancer-diabetes-birth-defects
Website: Check out the Poll's website: MottNPCH.org. You can search and browse over 80 NPCH Reports, suggest topics for future polls, share your opinion in a quick poll, and view information on popular topics. The National Poll on Children's Health team welcomes feedback on the website, including features you'd like to see added. To share feedback, e-mail NPCH@med.umich.edu.
Facebook: http://www.facebook.com/mottnpch
Twitter: @MottNPCH
Additional resources:
C.S. Mott Children's Hospital Pediatric Cancer Care
http://www.mottchildren.org/ped-cancer
National Cancer Institute
http://www.cancer.gov/cancertopics/types/childhoodcancers
American Childhood Cancer Organization
http://www.acco.org/
Purpose/Funding: The C.S. Mott Children's Hospital National Poll on Children's Health – based at the Child Health Evaluation and Research Unit at the University of Michigan and funded by the Department of Pediatrics and Communicable Diseases and the University of Michigan Health System – is designed to measure major health care issues and trends for U.S. children.
Data Source: This report presents findings from a nationally representative household survey conducted exclusively by GfK Custom Research, LLC (GfK) for C.S. Mott Children's Hospital via a method used in many published studies.  The survey was administered in June 2013 to a randomly selected, stratified group of adults age 18 or older (n= 1,996), from GfK's web-enabled KnowledgePanel®, that closely resembles the U.S. population. The sample was subsequently weighted to reflect population figures from the Census Bureau. The survey completion rate was 58 percent among panel members contacted to participate. The margin of error is ±3 to 4 percentage points and higher among subgroups.
Findings from the U-M C.S. Mott Children's Hospital National Poll on Children's Health do not represent the opinions of the investigators or the opinions of the University of Michigan.
###