ANN ARBOR, Mich. - University of Michigan Cardiovascular Center researchers will be among hundreds of heart experts worldwide to present ground-breaking research at the American College of Cardiology's 61st annual Scientific Session & Expo in Chicago March 24-27.
The session is focused on a passion for science, education and peer-to-peer networking, ideals that are reflected by the University of Michigan as its physicians and scientists look for innovative approaches to prevent and treat heart disease, the world's leading cause of death.
From treating women and heart attacks and predicting heart failure to curbing childhood obesity, the U-M will present research on hot topics in cardiovascular medicine. Among them are:
Young women with acute coronary syndrome events: Are all women the same?
Young women who have heart attacks have high rates of rehospitalization, but little is known about what places women at risk for readmission.
A study by the University of Michigan Cardiovascular Center sheds light on the issue and shows women under age 55 are less likely to have percutaneous coronary interventions, such as angioplasty, and after they're discharged from the hospital are less likely to receive medications such as beta blockers that are known to prevent future heart problems.
Researchers analyzed data on 3,237 men and women admitted to the U-M Health System with acute cardiac syndrome. Women under age 55 represented 7.8 percent of the study group. This age group was also more likely to be current smokers and be obese.

"While younger women make up a smaller portion of heart attack patients their recovery appears very different from men and even older women," says Elizabeth Jackson, M.D., M.P.H., (left) director of the Women's Heart Program at the U-M Cardiovascular Center.
More than 250,000 women die each year from a heart attack and heart disease is the leading cause of death for American women.
Authors: Jamie Diamond, M.D.; Melinda Davis, M.D., Sangeetha Krishnan and Elizabeth Jackson, M.D., M.P.H.
 Impact of a 10-week middle school intervention to improve health behaviors and reduce cardiovascular risk factors – Project healthy schools in Michigan
Sixth graders taking part in a 10-week program that includes interactive lessons to get heart smart coupled with healthier food and beverage options in the cafeteria and vending machines had marked reductions across all cardiovascular risk factors, according to study from U-M Cardiovascular Center researchers.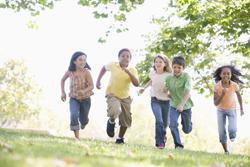 "To see this kind of an impact in such a short period of time is pretty encouraging, and something that distinguishes it from other childhood obesity programs," says Taylor Eagle, a pre-medical student at U-M, and the study's lead author.
"Teaching these kids heart healthy lessons makes a real difference and it could change their lives forever. It's also important for controlling health care costs down the road because children who are obese in childhood are much more likely to be obese in their adulthood."
In addition to favorable physiologic changes in blood pressure, cholesterol, triglycerides and random glucose, the analyses showed the program also supported better dietary and exercise habits. Students reportedly consumed more fruits and vegetables and became more physically active, spending less time in front of the TV and/or computer and more time playing intramural sports.
Authors: Taylor F. Eagle, Roopa Gurm, M.S., Cydni A. Smith, Nicole Corriveau, Jean DuRussel-Weston, R.N., M.P.H., LaVaughn Palma-Davis, M.A., Susan Aaronson, M.A., R.D., Caren Goldberg, M.D., Eva Kline-Rogers, M.S., R.N., N.P., Elizabeth A. Jackson, M.D., M.P.H., Kim A. Eagle, M.D.
(Courtesy of the American College of Cardiology)
Gender differences in physiologic markers and health behaviors associated with childhood obesity
Intervention programs aimed at curbing obesity in adolescents may be more effective if they are gender-specific, according to U-M Cardiovascular Center research.
The study looked at the health behaviors and cardiovascular markers, including blood cholesterol, random blood sugar, blood pressure, and resting and recovery heart rate, of more than 2,000 sixth graders to tease out factors that may protect against obesity in boys and girls. There are important differences between boys and girls in both behaviors and risk factors that are associated with obesity.
"As kids start approaching adolescence, we need to think about what motivates them to be active and stay healthy," said Elizabeth Jackson, M.D., M.P.H., cardiologist at the U-M Cardiovascular Center. "The best way to target healthier behaviors may be to have a different message geared toward boys and girls."
Based on the analysis, vigorous physical activity (exercising at least five times a week) and involvement in team sports appear to be especially protective against obesity in boys, but not girls. Surprisingly, when it comes to obesity in girls, drinking milk – not being physically active – emerged as an independent predictor of healthier weight.
Authors: Morgen Govindan, Roopa Gurm, M.S., Rose Follis, Nicole Corriveau, Eva Kline Rogers, M.S., R.N., N.P., Jean DuRussel-Weston, R.N., M.P.H., Susan Aaronson, M.A., R.D., Cathy Fitzgerald, Caren Goldberg, M.D., Kim A. Eagle, M.D., Elizabeth Jackson, M.D., M.P.H.
(Courtesy of the American College of Cardiology)
For heart failure patients, does attendance of an early post-discharge clinic visit make a difference in preventing readmission?
Early post-discharge follow-up appointments for heart failure patients might not be enough to prevent hospital readmissions, according to research from U-M Cardiovascular Center researchers.
The researchers found that attending a follow-up appointment within seven days of discharge had no effect on 30-day readmission rates. In fact, patients who didn't attend a follow-up appointment seemed less likely to be readmitted within the 30-day period.
After collecting data from patients with heart failure discharged from U-M between 2008-2010, the researchers found the readmission rate for patients who attended a follow-up appointment was 23.9 percent, and 22.9 percent for those who didn't.
"The data suggests that early follow-up appointments during the hospital-to-home transition might not be the key to preventing readmissions for these heart failure patients," says Redah Mahmood, M.D., a physician at Oakwood Hospital in Dearborn, and the study's lead author, who worked with Todd Koelling, M.D., director of the Heart Failure Program at the U-M Cardiovascular Center.
Authors: Redah Zainub Mahmood, M.D., Snehalkumar Patel, M.D., Sherry Bumpus, Ph.D., Cydni Smith, Reema Hasan, M.D., Todd Koelling, M.D.
###